The update page is up and running
click on above link
---
Please e-mail me with typos or info on

genealogy page not wished to be there-
---

---
SEND ME YOUR FAMILY NEWS !
Please check here for latest
Information on various family members.
Please submit postings as often
as you wish... about anything !
This web site is basically private -
public usage would only be from
accidental hits. You have to know
the URL address to find it
Submit to Rick Jones
rjdj@charter.net
---

Rick (
Dorothy Casey Jones)
Jones
rjdj@charter.net
---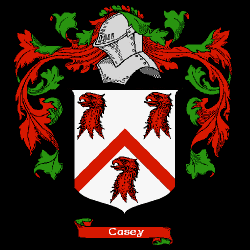 More "Crest Info"
CLICK LINK ABOVE FOR
CREST INFO
This is the information I have so far
on the Family Crest - do you have any
more/different information ?
Let ME know ASAP - check this out!!
rjdj@charter.net
.
9/22/02
1:00pm
---
Sunday, 9/22/20021:00 pm by Rick Jonesrjdj@charter.net

---
I HAVE MORE SPACE - MANY UPDATES
Please note I have added a links page - sparse at the moment.
BUT after you all send me your favorite links it will be a great
resource area. Please E-Mail me YOUR personal web pages and
favorite sites to add to this page!



I was going to begin with both reunion slide shows (before and "at")
and the McGiverin/Cieslewicz Wedding slide show - HOWEVER
these files are to large to download, so for a mere $5.00 I'll send
all 3 on a CD. These are files any up to date computer with a CD
should be able to play (regular executable files)



Order page available soon on the links page for the slide shows
and the Genealogy Book also !
Also Note: I am unemployed at the moment - any web site
building jobs or other leads on employment - appreciated!
In Order to m

---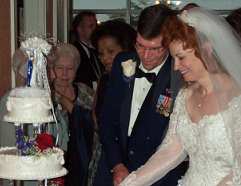 Therese Anne McGiverin &
James Cieslewicz
September 14, 2002

---
Saturday, 9/07/200210 :00 pm by Rick Jonesrjdj@charter.net

---
Happy B DAY TO ME! almost half a century
Thanks Bob Casey and Ree Casey - You guys know why!
Please click here and see some more Reunion Photos
from me and John Laughlin IV!



HOWEVER - I RAN OUT OF SPACE ON WEBSITE
so you can only see the thumbnails! (except first few)
Any one that can offer me free (or cheap)
webspace let me know ASAP ! I'm at 10mb now and will need at
least 10 more. I can't update any more family groups
till i get space. : (
---
Tuesday, 8/20/200210 :00 pm by Rick Jonesrjdj@charter.net

---

THANKS Megan Taylor - her reunion shots!!
---
Wednesday, 8/21/200210 :00 am by Rick Jonesrjdj@charter.net

---
HERE THEY ARE -
THE FIRST PICTURES FROM THE REUNION!
Thanks To Tom Casey for the arrivals
Monday sometime.
Does he sleep?)
(my own pictures are locked up on John Laughlin's
computer somewhere)!
.

.

---
FRIDAY, 8/16/2002 10 :00 am by Rick Jonesrjdj@charter.net

---

4hrs sleep - but who's counting - printing all this all
and transferring to laptop

WOOHOO TODAY IS THE BIG DAY
WE HAVE ALL BeeN WAITING FOR!
PARTY ON DEWDS!
At last count we have over 170 for dinner - out of a possible
... oh 210ish 80 % attendance - WAY TO GO CASEY'S
---

Just a few of the shots I have come across - way good photo page
to come after reunion!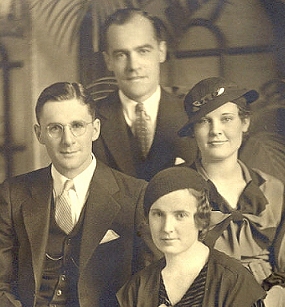 ---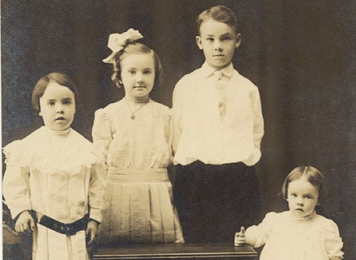 ---
WEDNESDAY, 7/24/2002 10 :35 pm by Rick Jonesrjdj@charter.net

---

URGENT
Mary (laughlin) Hobert Writes:
Dear Family....
It would have been so easy to ask everyone their t-shirt sizes
on the reunion form you all sent back, but I don't always like to
take the easy way out. So, now I have to ask you to return this
email ASAP with all your familys' sizes because
we have to get the info to Meg Casey Benben (who has designed
some great shirts), by next week.
So, if you're getting this email, list the family members who are
coming to the reunion and their sizes and just shoot them
back to me.
---

That's about it! The next thing you'll hear will be an email or
letter from me giving you all the last minute details. Pray that
I don't forget anything!
There is SSOOOOO much to remember! The committee
(Rodney and Mary Casey, Kevin and Vicki McGiverin, and
Tag and me) is really working to make this unbelievable turnout
(130 adult reservations so far!
If you know of anyone who hasn't let us know they're coming yet,
encourage them to connect with me!)
a fabulous, heartwarming, inspirational, fun weekend.
We have 3 wks to go before you all arrive! Make sure you have
all your plans made! Love to you all...........Mary
---

I have change the website and added a Navagation Bar at the top
now please let me know how this is working out - you need I/E
5.5 or better or latest mozilla or netscape (6.? or preview 7)
seems to allow easier movement around the site.
---
THURSDAY, 7/18/2002 8 :55 am by Rick Jonesrjdj@charter.net

---
HELP less than 1 month and I have close to 150+ pctures
needed yet ! /me sigh - I havent got them yet - Im going to start
using old stuff I have - this is not a good idea! LETS GO PEOPLE
I"m getting Scared !
---
THURSDAY, 7/18/2002 8 :55 am by Rick Jonesrjdj@charter.net

---
WoW, good news from Bob casey !
Howdy all-

Let me add my thanks to Quinn's for all the prayers & good wishes
during what was a pretty harrowing time in the hospital.
As Quinn said, it was a nasty attack of the Ecoli infection,
initially affecting my blood and urinary systems, but quickly
generating side effects in my nervous system--specifically spasms
of pain (level 7-8 on 1-10 scale) on the right side of my head above
my right ear. Recoiling from those spasms was literally bouncing me off the bed.
After a host of tests to make sure they had it figured out
(IVP, CAT-scan, EEG, MRI, if you're into abbreviations), they attacked it with
intravenous CIPRP antibiotic and got it under control.
Suffice to say, if it was a type of near-death experience, I don't recommend it!!

The experience does generate some lessons learned that are worth passing on,
I think:
(1) If you ever experience uncontrollable shudders or tremors, get to a hospital,
IMMEDIATELY! All the doctors reiterated that such an effect is a clear indication
that some kind of infection has gotten hold of your body.
(2) For the guys over 50--get annual physicals and pay attention to the blood
results that show elevated PSA readings. That's a possible indicator of Prostate
cancer but can be caused by a couple of other things (in my case the biopsy to
check for cancer was negative) Even so, it's nothing to toy with.
(3) If you do get a biopsy, recognize that it is an invasive procedure.
It may not necessarily lead to an infection, but the super-sharp Infectious
Disease Specialist doctor on my case is convinced it's one of the preconditions
that can lead to infection. (Just to drop the other foot, she & others never
isolated the source of my Ecoli infection. But she concluded that the biopsy &
traces of blood in urine on annual physical in Jun were preconditions that
combined with something I ate or drank to give me the Ecoli, even though others
tea and drank the same things I did and did not get it.)

Anyway, thanks again for your prayers and support. Now that's enought serious
stuff and we can get on to the lots more fun stuffy of a great
CASEY FAMILY REUNION!!!
. . . exactly a monty away from now. Hope you can all make it--it'll be a super
celebration of our faith, family and fun!!

Love to all from all here / Bobby & Mary Frank

---
Monday, 7/10/2002 10 :55 am by Rick Jonesrjdj@charter.net

---
Last Info I have is Bob went home ! And is recovering well
unfortunitly I can't confirm! If any one knows more let me
know PLEASE ! hmmm No pictures or updates for 3 days in
row - thats not good lets go people !
---
Monday, 7/10/2002 10 :55 am by Rick Jonesrjdj@charter.net

---
Pray NOW!
Just received a note from Quinn Casey -
apparently his dad, Bob Casey has come down with
"a strain of E. COLI virus" ! Prayer is a must ! We need
to pray for a quick recovery ! For more info:
http://www.about-ecoli.com/main.html

Received updates from Ree Casey and the Roeders
um - when I finish roeders - thats like 6 more 1st cousins
once removed and a whole bunch of spouses-
Gee I hope Mary and Tag have a really really BIG TENT !
This isn't 100% acurate yet..
but we are some 240 strong ! Give or take 10 !
lets see I get about 5 pictures a day = 48 days
oh oh ! Ok I have to take next month off from work !

---
Monday, 7/08/2002 9 :55 am by Rick Jonesrjdj@charter.net

---
Been very busy (up north) relaxing - cant work on this
30 hrs a week and not take a break! J/K (really 40)
UPDATES are starting to trickle in !
Monica & REE - Thanks !
And Thanks to Conley family!
I am An "egocentricdetailamaniac"
details details details details details -want em gotahave em !
I noticed that some of you are
stricly adhering to the form I sent DON'T ! that was the past
format and new is somewhat different. Baptism dates and
places are very important (some didn't get printed on the form).
make additions and changes based on... yep - DETAILS.
Addresses showed up in wrong place (not my fault)
make sure and include everything
Make sure you include all details!
WHEN AND WHERE !
Anything you feel important to HISTORY !
Please pass this on to fellow family members that dont
view website!
Alphabetical List with addresses and emails
check it out on left menu !

---
Friday, 6/28/2002 7 :55 am by Rick Jonesrjdj@charter.net

---
I have now sent out ALL the packets to update the
family tree program info - If you dont have one -
contact family memeers - someone has it - GET GOING
VERY LITTLE TIME _AND REMEMBER
SEND PHOTOS (some money too - for expenses)
---
Is this the most complet list of E-mails?
47 Emails on the Email page - check yours
and update, change or add by emailing me

---
Saturday, 6/22/2002 11:55 am by Rick Jonesrjdj@charter.net

---

Dorothy Irene Casey Jones
1914 - 2002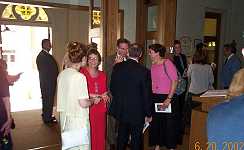 "Twas a funeral that was befitting me Mither!"
... complete with Irish Tenor !
"Irish Eyes" were smiling with tears of
sorrow and joy. The loss of a great person
and the joy that she resides in a "Better Place"
Click picture to go to funeral pictures
---
Thursday, 6/06/2002 7:15pm by Bob Casry bob.casey@lmco.com

---
One bit of family news. Two cousins
Meegan (Catherine Casey Owens) Kriley
and Quinn (Bill Casey) Casey competed
in and completed the San Diego Rock-n-Roll Marathon
on 2 June. Quinn finished just under 4 hrs and Meegan
a bit later, but both reported a great time in a really neat city.
Hopefully Meegan &/or Quinn will send you pictures / add
details for the family website.
---
Moday, 6/3/2002 9:00pm by Rick Jonesrjdj@charter.net

---
WOW - I just found out there was an update to my family tree
program "Brothers Keeper" That makes web pages for me
automatically from that data base! so - big changes in the
genealogy page ! This means I only have to update the
family tree program and press a button and
BAM ! web page made!
so I don't have to constatnly update both, and maually
make those family pages - and whats better - it's easy
to do each time I get even the simples updates
OH HAPPY DAY ! :-)
If any one wants to get the program do so - I can keep the
updated files available on this site and all you have to do
is copy data files over and view them yourself.

---
Saturday, 6/1/2002 6:00pm by Rick Jonesrjdj@charter.net

---
I may have not stressed enough to PLEASE send
complete Info: Full names, addresses, places, phone
numbers, E-mail Addresses, everything and anything
not all info like addresses and phone #'s are put on
web page. BUT are critical to ACURATE Genealogy
for my genealogy program!
Grrrr... just wrote 3 paragraphs and computer
locked up! I just hate when that happens!
---
Woohoo - Mary Kay Kriley Owens second
person to send photos... THANKS !
Ok... not everone has the "package" yet!
your package is coming soon!

---
Friday, 5/31/2002 6:00pm by Rick Jonesrjdj@charter.net

---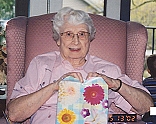 Mom looking her best
for mothers Day 2002!
Unfortunately mom is not
doing to well, and we
would like to remember
this day. I wanted to share
this photo with everyone.
click the picture to view larger image.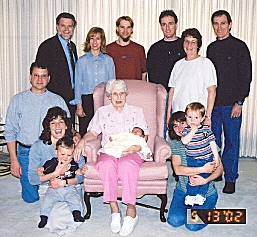 The "Extended Family"
click the picture to view larger image.
---
Sunday, 5/27/2002 10:00am by Rick Jonesrjdj@charter.net

---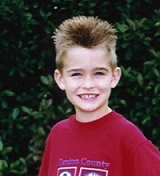 Yvonne Casey's daughter
Meghan Mary Scott Taylor
& Husband Tommy sent the
first picture to add to the
family tree!
Meet Clancy Sheridan Taylor !

Click image to see larger image .

---
Sunday, 5/26/2002 6:15pm by Rick Jonesrjdj@charter.net

---

New Email Page now UP !
Check it out - all the E-mail Address I have of this
moment - click on above link

---
Saturday, 5/22/2002 10:51am by Corey Bruce
Cory.Bruce@legis.state.wi.us

---
Webmaster note - Cory and Sheila picked up on a little
bug I put in to the genealogy page - any one else find it ?
Hint: Know thy parents (or Grandparents)!?
Patrick Casey Henneger graduated from
Marquette Law School on May 19th. He
will be working for a firm in Madison.
We're all really excited to have himback in Madison.

---

Happy 50th Bithday
Meg (Paul Casey) Benben
3 Margaret Ann Casey #209 b. 05/20/1952 St. Louis, MO

---
Tues., 5/14/2002 Therese Anne McGivein
therese.mcgiverin@CUNAMutual.com
---
We would appreciated it if you
could pass this along to other
family members. Updates have
been made so please check it
out by logging on to
www.marrymemarisa.com.
We hope that you find the
information helpful.
Therese Anne McGiverin &
James Cieslewicz
September 14, 2002
www.marrymemarisa.com/therese&jim.htm

---
Mon., 5/13/2002 9:15pm by Ree Casey
macasey@caseycomm.com
---
Hi Rick,
Nice work on the web site updates and the
family news section! If you think it's appropriate,
I thought I'd submit the following.
Meg Casey Benben
(oldest of Paul [aka Buddy] and Marie)
will celebrate her 50th natal day on
Monday, May 20th.
Those seeking to spur her on and/or
commiserate are encouraged to send cards or call:
8115 Rosehill Road
Lenexa KS 66215
BENBENR@aol.com
913/541-8511
Submitted by one of her seven still-under-50 siblings,
Ree Casey.

---
Sunday, 5/11/2002 12:15am by Rick Jones rjdj@charter.net

---
Future additions to the site include E-mail addresses
section. I will try and make available in
different formats! Everyone Send me
Everything you have !

---
Saturday, 5/11/2002 11:15pm by Rick Jones rjdj@charter.net

---
Dorothy Casey Jones continues to have her
ups and downs with her battle with Cancer.
Morphine has helped with breathing but her
back pain is keeping her in bed a lot.

---
Saturday, 5/11/2002 11:15pm by Rick Jones rjdj@charter.net

---
A little over a week ago a new addition
to the casey clan was born!
Elisabeth (Lizzy) Kathleen Mikulich - born to Jennifer
Langlois Mikulich & Rudy Mikulich !